Donate today. Help us honor those who have fallen.
The Central Florida Veterans Memorial Park honors those who left our community and never returned and is a place of healing and remembrance for their family and friends.
The Memorial is located adjacent to the new Orlando VA Medical Center (VAMC) overlooking a tranquil lake and a short walk to the campus Chapel (assisted living center) and Domiciliary. It truly is a special place to both remember the names of Central Floridians who died while serving our country and to mourn their losses. This memorial is also a peaceful place for patients, families and friends to heal, pray, relax, reflect and connect with their loved ones.
It honors approximately 1,200 veterans from Orange, Lake, Osceola, Seminole, Brevard and Volusia counties who made the ultimate sacrifice and never returned. The six counties located in Central Florida are home to over 400,000 veterans, and there are more former military personnel over 65 years of age living in our community than in any other place in the United States.  Also there are more veterans that are over 50 percent disabled living in Central Florida than any other place in the United States. Central Florida is the No. 1 destination for combat veterans, and the Orlando VA Medical Center offers more services than most other military medical facility, especially for women.
This was a major project involving approximately $3 million dollars in combined construction costs and an endowment for maintenance and upkeep of the Memorial Park.  The Memorial Dedication Ceremony was held on November 11, 2013.
Please continue to help us honor those who left our community and never returned. The Endowment Fund was established for continued maintenance and upkeep of the Memorial and will continue to be funded by Donors. We recently replaced all the original lighting and added new sidewalk lights. You can contribute online by clicking the green "Donate Today" button. Major outright gifts of cash or stock qualify for naming your gift in honor or in memory of a loved one.
In addition, some donors prefer setting up a trust that provides them income during their lifetime and a contribution to the Memorial as well. The CFVMP Foundation accepts gifts of life insurance and bequests.  Please consult your tax advisor before making such gifts. For more information, please contact COL DeLloyd Voorhees, US Army (Ret),  President, at 407-620-1158 or de.voorhees@cfvmpf.org..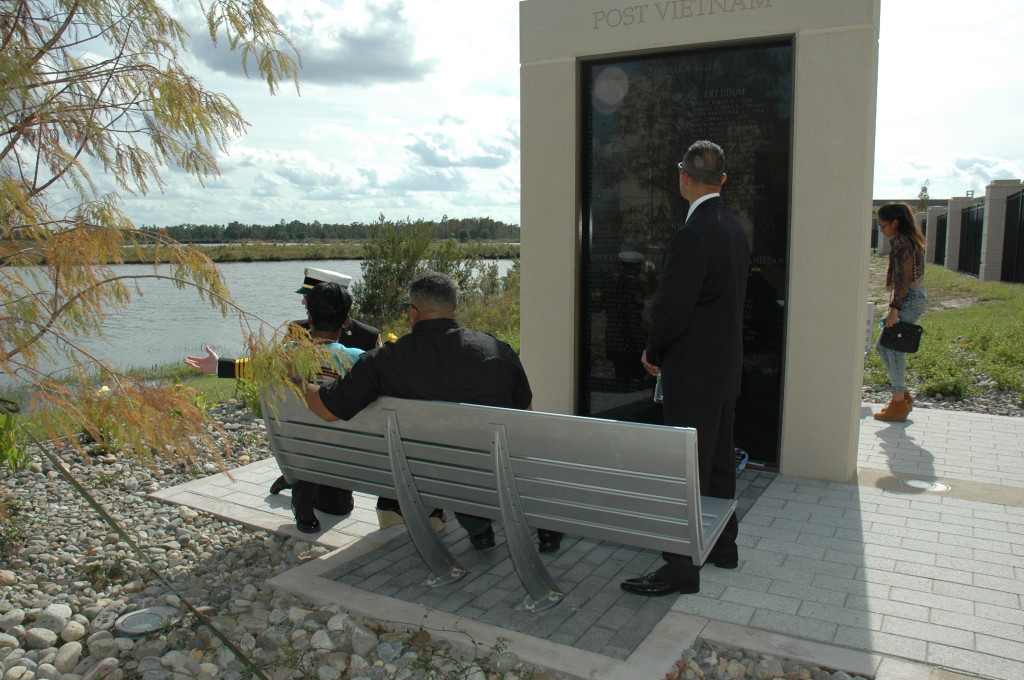 This Memorial was a joint community project with the land use provided by Lake Nona Land Development and with control of use, design, monument specifications, and events to be retained by the Central Florida Memorial Park Foundation, Inc. RLF architects of Winter Park has contributed substantial design and engineering related services on a no fee basis. Wharton-Smith Construction provided construction project management on a no fee basis. No member of Central Florida Veterans Memorial Park Foundation, Inc. has received compensation for services.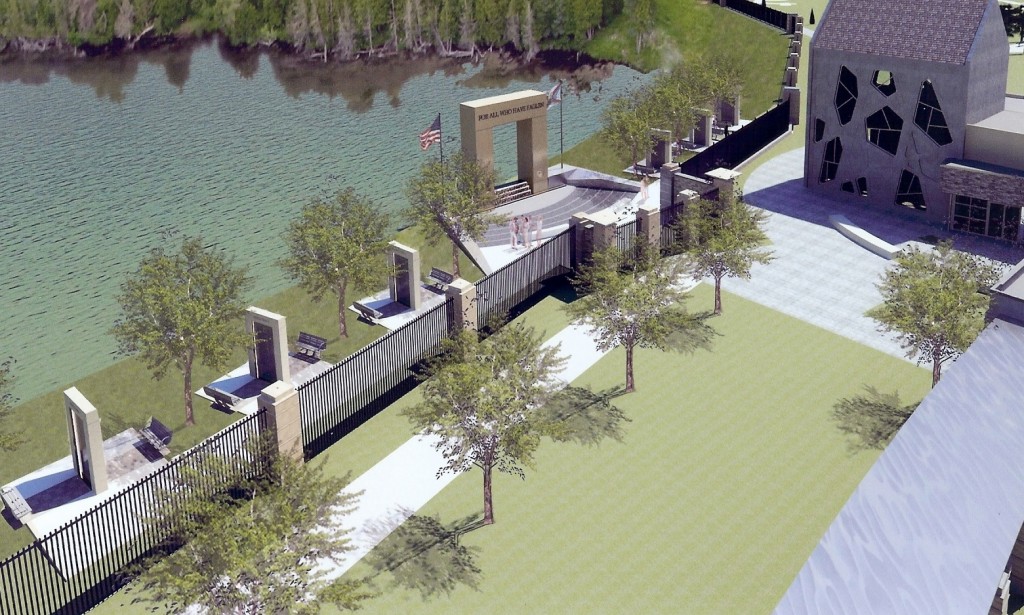 To the left and to the right of the main memorial, are smaller more private areas with granite monuments with the names of those who have fallen in specifically named wars in the uniform of our country.
Each private area has shaded seating and is beautifully landscaped to coordinate with the adjacent properties.
LET US NEVER FORGET THEIR ULTIMATE SACRIFICE
DUTY.    HONOR.   COUNTRY.
WHERE ARCHITECTURE AND HEALING ARTS MEET
When Ron Lowry, Chairman, RLF (Rogers, Lovelock & Fritz),  Architects in Winter Park, was commissioned to design the Veterans Hospital, the firm was given the charge to create an environment that is a place of healing and to be honoring to the patients that served our country.  Today, the firm's award winning design has won praise for not only meeting this objective but for creating a setting where architecture and the art of healing intersect.  With its 65 acre site, nestled between waterways and protected habitats, it offers a natural healing environment and the ideal location for the Memorial Park itself.  No other hospital in the U.S. has combined both elements – healthcare for the veterans themselves and a healing place for the family and friends of the fallen.
Why, Is this so important?
"A healing environment is part of healing itself," says Drama Therapist and Trauma Specialist, Anne Curtis, RDT, CTSS of Maitland, Florida.  "Integrating this Memorial with the hospital's services creates the two most important elements to one's health — the hospital's strength as a care provider and the Park's meditative environment.  Anytime you can offer a special place where people can reduce stress, lower anxiety, cope effectively, make meaning out of loss and suffering – you are creating a healthy/healing environment.  In my professional judgment, Mr. Lowry and his team have done a magnificent job of creating healing spaces through their design of both the hospital and memorial effectively integrating architecture and healing arts."
As Ms. Curtis points out, "Medicine today is moving toward a more holistic view of healing, encompassing not only the body but also the patient's mind and spirit. The memorial symbolizes the resilience of the human spirit and the powerful connection between generations.  It honors the patriotism of generations who came before us, the hope of those who struggle to make our world a better place and our faith in the enduring miracle of life."
ASSOCIATED LINKS