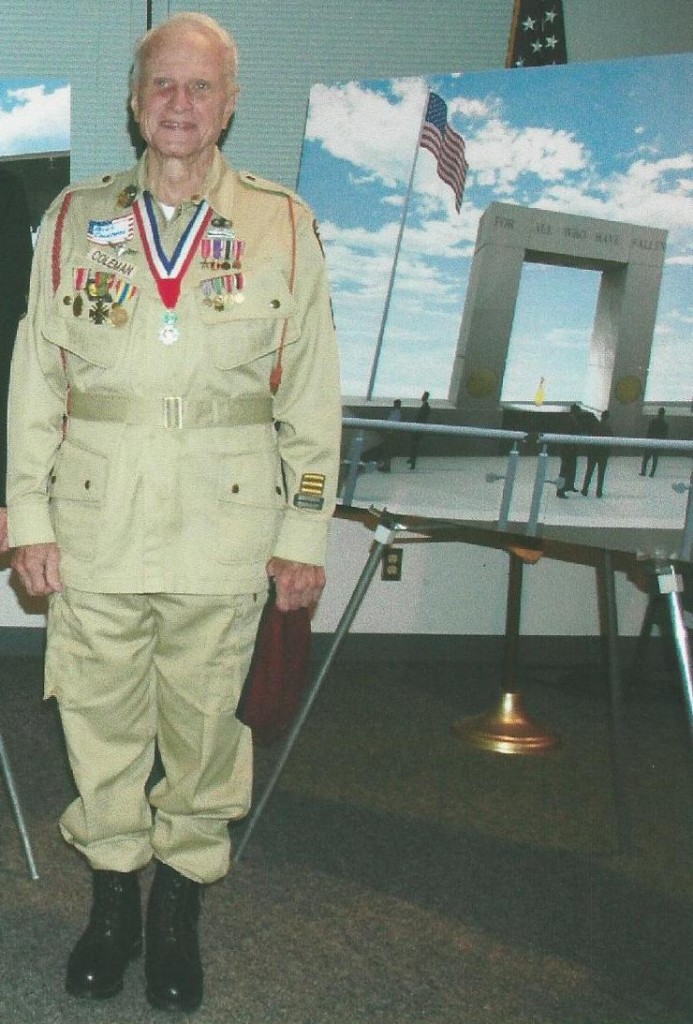 Photograph taken June 11, 2010
Bill is standing next to Central Florida Veterans Memorial Park Foundation's architectural drawing of the Memorial Park which will be built at Lake Nona adjacent to the new VA Medical Center. The Memorial will honor fallen heroes from six central Florida counties.
(Architectural drawing by RLF Architects) 
On December 13, 2012,Central Florida was saddened to learn of the death of a faithful friend – William "Bill" C. Coleman.
Bill had a passion for veterans and was a vocal advocate for the new Orlando VA Medical Center being built at Lake Nona.    Bill proudly served in WWII being a POW for almost a year, was a recipient of two Bronze Stars and a Purple Heart.  He also had served as a GOP state legislator, Florida's first secretary of transportation and a member of the Greater Orlando Aviation Authority.
A highlight in Bill's life was joining 40 veterans in parachuting into France 50 years after he made his first jump over Normandy.  He jumped out of a plane again at age 80 on the 60th anniversary of D-Day.
He remained active in veteran's affairs and sat on the Florida Commission of Veterans Affairs.  He was also a member of the Board of Directors of Central Florida Veterans Memorial Park Foundation, Inc. 
His family has suggested in lieu of flowers, that donations in his honor and memory be made to the Central Florida Veterans Memorial Park Foundation, Inc.
Bill Coleman will be missed by many – his wife, Toni, his children, grandchildren, great grandchildren and his many friends who include all of the members of CFVMPF with appreciation for the great example and inspiration he was to his family and all of his many friends!